Supported platforms:

Windows 8/8.1, Windows 10

Supported languages:

English

Current version:

1.0

Release date:

12th July, 2013

Licence:

Price:

$0.00/£0.00/€0.00
Frotz8 for Windows
For many years, I have loved playing text adventure, or "interactive fiction" games. I was therefore very disappointed to find that there were no apps available to play these games in Windows 8. So I decided to create my own player app, and this is the result of that work.
Frotz8 is an interactive fiction game interpreter. It is based on the extremely capable Frotz engine, and so it should be able to play virtually all Interactive Fiction games that use the Z-Machine standard. These include all of the original Infocom adventure games, and hundreds of more recent games created with the Inform development environment.
A large collection of compatible games can be found in the Interactive Fiction Archive's Z-Code page -- take a look to see some of the games that you can play inside Frotz8. And even better, Frotz8 integrates directly with the IF Archive, allowing you to find, download and play the games with just a couple of clicks or taps on the screen.
A significant amount of the code in Frotz8 was written by others, including work by Stefan Jokisch (who created the original Frotz engine) and Chris Szurgot (who ported Frotz to C#). Both to thank these people for their work, and also just because every system should have a Z-Machine interpreter, I have decided to release Frotz8 free of charge. There aren't even any adverts. :-)
I intend to continue developing and enhancing Frotz8, so if you have any comments, suggestions, complaints or bug reports, please contact me and let me know.
Frotz8 is available now from the Windows Store
Screenshots (click to enlarge)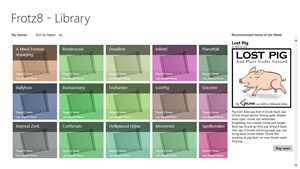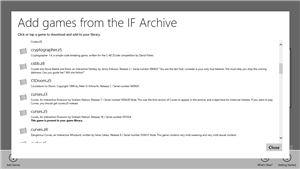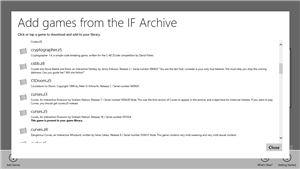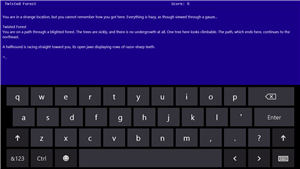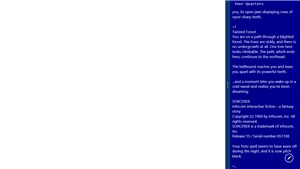 Features
Quick and easy access to your games via a convenient Library screen
Sort games by name, by the number of times played, or by the date last played
Import games from your local disk or from your SkyDrive account
Integrates directly with the Interactive Fiction archive allowing games to be found and installed with ease
Pin your favourite games to the Start menu for quick access
Full support for keyboard and touch-screen devices
"Recommended game of the week" helps you find new games to play that you may not have tried before
A choice of colour schemes and font sizes
Version history
Version 1.0 (2013-07-12)
---