Supported platforms:

Windows Phone
(Also available for Windows 8)

Supported languages:

English, Chinese (Simplified and Traditional), Finnish, French, German, Italian, Russian, Spanish, Swedish, Ukrainian, Hungarian

Current version:

2.13

Release date:

5th November, 2014

Licence:

Price:

US$1.29, £0.99, €1.29
(Note: price includes both Windows Phone and Windows 8 versions of the app)

Support/requests:

Download:
RSS Central for Windows Phone
RSS Central is a powerful and easy to use application that can download and display RSS, Atom and RDF news feeds from web sites all over the internet. Its quick multi-download system will bring all the news feeds you want to your fingertips in no time, and will hold on to them so that they can be read even if you lose your internet connection.
RSS Central features an attractive and informative user interface, categorised news feeds, a feed search to discover new news sources, article summary and full web page displays, article search tools, read/unread article tracking, support for international characters, a useful "send to email" feature, portrait and landscape support, plus a whole lot more.
RSS Central's trial mode is fully featured, and just displays occasional "nag" screens while using the application. Please give it a try and see what you think.
Before getting my Windows Phone device, I had an HTC Touch Pro2. One of the applications that came pre-loaded on it was Ilium software's RSS Hub. This rapidly became one of my most-used applications. When I moved to WP7 I tried a number of the RSS apps that were available, but none of them worked in the way I wanted or offered the features that I was looking for.
In true programmer style, instead of compromising with one of the available alternatives, I set about writing my own application. RSS Central is the result. It is functionally inspired by RSS Hub and uses a similar approach to displaying and organising its content. I also used the opportunity to clean up a few of the little annoyances that I found with RSS Hub. I hope you like the end result!
I intend to continue developing and enhancing RSS Central, so if you have any comments, suggestions, complaints or bug reports, please add them to RSS Central's UserVoice page or contact me and let me know. If you would like to help translate RSS Central into your language, please contact me about this too.
As you will see from the version history below, I added lots of new things in the application updates, and most of these were suggestions from people using the app. I have more enhancements lined up, if there's something you think should be added or changed then please let me know and I'll add it to my list.


RSS Central is available now from the Windows Phone Store.
Quotes from RSS Central reviews in the Windows Phone Store:
Best RSS reader on the market, and I have tried most!
-- irdawood
Best RSS reader I've seen so far. Worth the price.
-- leongustavo
Love it. I have tried many news and RSS apps and this is the best one.
-- Tusker
This app does exactly what's needed, making it easy to add feeds through searching, categorize feeds and HIDE items that have been read. I've tried about 10 other options in the Marketplace, but this is the one you want if you have a large number of feeds or have varied interests that don't correspond to some of the hard-coded readers.
-- Mlizardi
Screenshots (click to enlarge)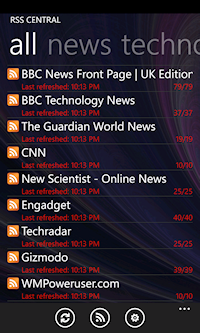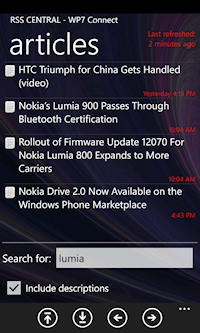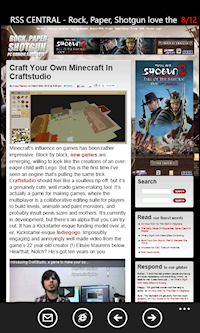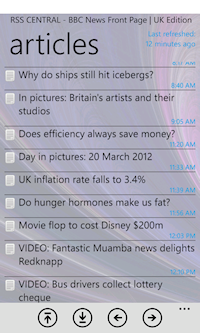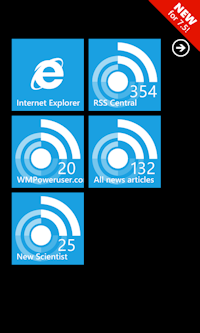 Features
Attractive and functional Windows Phone-style user interface.
Streamlined navigation to make using the app as quick and easy as possible.
Fast application startup to get you straight into your feeds without having to wait.
Create categories to group your news feeds together for easier browsing.
Feed search function to help you discover new feeds and news sources.
Quick display of article summaries, or show the full article content with just one touch.
Live tiles show you the number of unread articles from the start screen. (WP7 Mango only)
Background downloads can be set to update your subscriptions even when RSS Central is not running. (WP7 Mango only)
Pin individual subscriptions and subscription groups to the start screen. (WP7 Mango only)
Share articles to social networking sites (Twitter, Facebook, etc.). (WP7 Mango only)
Search for keywords within feeds to help you find articles of interest.
Import and export your subscriptions in .opml format via SkyDrive or DropBox.
Flexible 'keywords' function allows you to easily locate articles of interest in your articles.
"Minimum refresh time" prevents unnecessary re-downloading of unchanged feeds.
Automatic tracking of read and unread articles. Choose to hide read articles and read subsciptions if you wish.
Full support for international character sets.
Quickly and easily send the details of interesting articles as an email or text message.
Send article details to your Instapaper account.
Full support for portrait and landscape orientation.
Support for running in multiple languages.
Version history
Version 2.13 (5th November, 2014)

Fixed a recurring "something has gone wrong" error that some users were seeing when attempting to refresh subscriptions.
Fixed navigating back through the article page history with some feeds (e.g., BBC news feeds).
Fixed the display of articles for a small number of feeds that were previously showing the complete article text instead of the title.

Version 2.12 (24th December, 2013)

Fixed errors when displaying the article preview that some users were encountering.
Fixed further issues with small fonts that sometimes appeared in the article previews.

Version 2.11 (18th December, 2013)

Fixed small fonts that sometimes appeared in the article previews.
Each article preview now displays the title of the previous and next article for easy navigation.
Moved the "mark all as read" function from the menu and onto the icon bar for easy access.
Author names are now displayed in the article lists when available.
Added an "invert" option to the keyword feature to highlight articles that don't match the keyword.
Reduced the launch animation time to speed up the app startup.
Fixed errors when displaying the article preview that some users were encountering.
Fixed Instapaper article submission.

Version 2.10 (2nd August, 2013)

Improved the sizing of images in the article previews so that you no longer need to scroll to see them.
Fixed images and links that were broken in some feeds.
Added support for Windows-1255 and Windows-1256 encoding.

Version 2.9 (3rd May, 2013)

Fixed the Dropbox import and export functions.
Fixed the display of YouTube videos in the article previews. These may now be played directly from the preview without needing to open the full article page.

Version 2.8 (3rd May, 2013)

Fixed the RSS feed search function.

Version 2.7 (10th March, 2013)

Corrected a problem with invalid dates when running with Italian regional settings.
Added a couple of missing translations for SkyDrive configuration.

Version 2.6 (3rd March, 2013)

When importing or exporting the list of subscriptions, it is now possible to use SkyDrive as an alternative to the existing DropBox support.
Added support for ISO-8859-7 and ISO-8859-15 encoding.
Added more languages. New languages in this version: Chinese (Simplified and Traditional).
Various minor enhancements and bug fixes.

Version 2.5 (25th March, 2012)

Added more languages. New languages in this version: Hungarian.
Added support for optional background images throughout the app.
When an article is shared, emailed, opened in the browser, sent to Instapaper etc., the page that is currently being displayed will be used instead of always using the article itself.

Version 2.4 (28th February, 2012)

Added more languages. New languages in this version: Finnish, French, Russian, Ukrainian.
Minor bug fixes.

Version 2.3 (18th January, 2012)

Added support for running the app in multiple languages. New languages in this version: German, Spanish, Italian and Swedish.
Reduced the "white screen" problem when opening articles.
Improved navigation when using the back button in the article display.

Version 2.2 (9th October, 2011)

This is a bug-fix/stability release and is strongly recommended to all users running v2.0 or v2.1.

Further stability and reliability improvements to the background agent.
Improved the sequencing of background agent downloads so that all articles are processed over time, even if some are slow and time out.
Improved the article matching algorithm. This should read stop articles reappearing in the WMPowerUser feed.
If page transition effects are disabled, the launch animation will be disabled too for faster startup performance.
Various navigation fixes.

Version 2.1 (3rd October, 2011)

This is a bug-fix/stability release and is strongly recommended to all users running v2.0.

Fixed an intermittent error that could result in the subscription list becoming corrupted.
Corrected a problem with compressed feeds using certain encodings -- these were no longer displaying.

Version 2.0 (27th September, 2011)

This version is only compatible with Windows Phone devices running WP7.5 (Mango).

Added support for Fast App Resume.
Added live tiles. RSS Central's tiles will now display live counts of the unread messages when pinned to the start menu.
Added background downloading. RSS subscriptions will be periodically updated when RSS Central is not running. NOTE: this need to be enabled in the "network" section of the settings page. Note that WP7 only allows 15 seconds of background activity every 30 minutes, so unless you have a very fast internet connection, it is unlikely that all your subscriptions will be kept fully up to date.
Individiual subscriptions and subscription groups can now be pinned to the start menu (long touch on the subscription from the main subscription list page).
Articles can now be shared to social networks (Twitter, Facebook, Linked In).
Added support for downloading compressed content from servers that support it. This can make a noticeable improvement to performance for some subscriptions.
Fixed a bug using the "back" button after navigating through links in an article.

Version 1.8 (17th August, 2011)

This is primarily a bug-fix/stability release, fixing a number of small issues reported from earlier versions of the app.

Corrected an error that occurred when creating new categories.
Fixed a number of concurrency issues that could cause exceptions when navigating around the app.
Fixed a number of minor issues running in the developer releases of the Mango update.
Opening IE for links containing accented characters displayed a mangled URL -- this is now fixed.
Other minor internal fixes.

Version 1.7 (24th June, 2011)

Added a new (and slightly experimental) feature that allows you to view all articles from subscriptions that share a category in one single list. To access it, swipe from the main page into one of the categories (news, entertainment, etc.) and then select the "All articles" item at the top of the subscription list. Please let me know how you get on with this feature, particularly if it causes any problems.
Fixed the Instapaper function which was intermittently failing to upload in RSS Central v1.6.
When viewing articles, those that have an author name will display the name at the top of the article text.

Version 1.6 (16th April, 2011)

Added new 'keywords' feature. This allows you to set up keywords which RSS Central will search for in your subscriptions. Each article found with a matching keyword will be displayed with a custom icon of your choice to bring it to your attention. You can sort keyword matches to the top of the list, or even set a subscription to only show those articles that match one of your keywords.
Added import and export functionality using DropBox. RSS Central uses standard .opml files for this. The function is fairly basic at the moment (I'll improve it in later versions) but does finally allow you to import feeds from elsewhere and to make backups of your feeds.
A new setting allows you to have your subscriptions automatically sorted into alphabetical order.
Finally, in case you hadn't noticed, RSS Central has a new logo, icons and splash screen. Many thanks to Jonny Shaw (@digilocker on Twitter) for generously providing these, I hope you all like them!

Version 1.5 (31st March, 2011)

Added a "tell me later" button to the Welcome page. If you're in a hurry and want to read the Welcome page later, this button will re-display the page next time RSS Central is launched.
Added "Send to Instapaper" menu items to send the details of interesting articles to your Instapaper account.
Added a new option to automatically refresh the subscriptions each time RSS Central is launched.
Added a "delete all subscriptions" option to the subscription management page.
Further improvements to RSS feed compatibility.
Fixed a potential startup crash bug.

Version 1.4 (26th March, 2011)

Additional content is displayed when viewing articles for certain feeds.
RSS Central can now be configured to run under the lock screen. This will not only remove the delay resuming the app after unlocking the phone, but will also allow it to continue refreshing feeds when the phone is locked while a refresh is in progress.
Added support for Windows-1251 encoding (and for the people that gave me 1-star reviews on the Marketplace due to this not being supported -- you only had to ask!)
Added support for ISO-8859-2 encoding.
When a feed URL is provided that doesn't actually return a valid feed, a more informative error message is displayed explaining why the feed cannot be retrieved.
Added a "welcome" page that appears just once the first time each new version of the app is opened. This alerts people to the fact that it is a new version, and details the changes that have been made. After continuing past this page, it won't appear again until an updated version is installed.

Version 1.3 (8th March, 2011)

Improved support for reading Atom and RDF feeds.
Added support for feeds encoded using Windows-1252 (thanks to Calum McLellan).
Improved datestamp parsing for certain feeds to ensure that articles are presented in the correct sequence.
The article page now shows the article number/count in the corner of the screen to help make article navigation clearer.
Added orientation transition effects.

Version 1.2 (9th February, 2011)

Added context menus for the subscription list. Press and hold one of the subscriptions to display the menu. The menu allows the subscription to be marked as read, marked as unread, refreshed, or edited.
Added context menus for the article list. Press and hold one of the articles to display the menu. The menu allows articles to be marked as read, marked as unread, sent by email or sent by SMS.
Added a further minimum update frequency that indicates that the subscription should only be updated manually. These subscriptions will never be included in the update when the Refresh button is pressed on the main subscription list, and are instead individually updated via their context menu.
Added support for sending article links by SMS.
Fixed a bug where the article list occasionally jumped back to the top when returning to it after reading an article.
Added support for reading feeds encoded with Windows-1250 encoding.
Clicking the "Read more online..." link on the article summary now changes the link text to highlight that it has been clicked. This provides some positive feedback for slow-loading pages.
A new navigation setting is available to control the back button behaviour on the article page. This can be set to either navigate backwards through the browser history, or to return directly to the article list. If navigating back through the history, a new menu option is available to return directly to the article list to save navigating all the way back.

Version 1.1 (29th January, 2011)

Added previous and next article buttons when viewing an article to navigate directly to the other articles in the subscription (this was by far the most requested feature from version 1.0).
Added previous and next subscription buttons when viewing the list of articles.
The list of subscriptions now displays the "last refresh" date of each subscription. If you prefer the appearance of RSS Central v1.0 (which didn't display this information), it can be switched off in the Settings page.
The Font size display setting now has an effect on the article summary view.
Add a new display setting, Orientation Lock. This can be left at "Automatic" (which will use whatever orientation the phone is held at), "Portrait" (which locks into portrait mode, regardless of how the phone is held) or "Landscape" (which will always display in landscape orientation).
Added a new display setting, Use page transition effects. The animations that Windows Phone 7 uses as you navigate around are generally very pleasant to look at and I have tried to replicate the same kind of feel in RSS Central. If you just want your data on the screen as quick as possible, however, you may choose to switch these off, which provides a speed boost at the cost of some of the aesthetics.
Added a new navigation setting, Startup category. Using this you can select a specific category to display when launching RSS Central, or get it to remember the category that you were looking at when you last used it.
Added a new navigation setting, After marking all as read... This lets you control what happens when selecting to mark all the articles as read inside a specific subscription. By default it returns you back to the subscription list, but you can also choose to move to the next subscription, or to do nothing and remain in the subscription you were viewing.
Provided a new logo, icon and tile. OK, OK, I get it, you hated the old logo! :-) I thought it was kind of cute actually; contrary to the comments I received, it wasn't a low-res image, it was supposed to be furry. I do however think that the new logo looks significantly better, I hope you think so too. The tile also has a proper coloured background to fit in with the other tiles. If the tile image doesn't update after upgrading from v1.0, remote the tile from the home screen and re-pin it and it should then appear with the new graphics.

Version 1.0 (17th January, 2011)
---
!-- UserVoice widget -->