Supported platforms:

Windows Phone

Supported languages:

English

Current version:

1.2

Release date:

23rd September 2011

Licence:

Price:

Free

Download:
Tile Fall
Tile Fall is a fun, simple, and very addictive game, in which you attempt to remove a number of coloured tiles from a grid.
Tiles can be removed providing that are touching another tile the same colour on at least one edge. Removing small groups of tiles (2 or 3 together) provide very small scores, but by removing other tiles, it is possible to get very large groups of tiles of a single colour. Removing these large groups results in drastically higher scores.
As tiles are removed, the surrounding tiles fall down to fill the spaces left. The game continues until no groups of 2 or more tiles are available. You will then be awarded bonus points if the board was cleared, or penalised for any tiles remaining. Each of the 12 available game configurations has its own high score table -- can you beat all your friends to become the Tile Fall champion?


Windows Phone Tile Fall is available now from the Windows Phone Marketplace.
Video/screenshots (click to enlarge)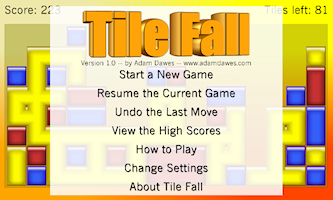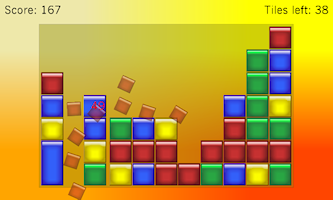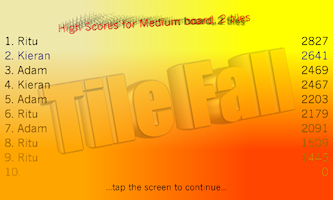 Features
Sharp, colourful graphics and fast, fluid animation
Highscore saving
Configurable board sizes and difficulty levels
Three different animation speed settings (normal, fast and off)
The authentic Tile Fall sound effects
"Extended" tileset graphics, cause tiles to merge with their neighbours (see screenshots above)
Undo Last Move feature
Built in "how to play" feature
Version history
Version 1.2 (23rd September, 2011)

Updated for Mango -- added fast app resume support.
Minor bug fixes.

Version 1.0 (10th November, 2010)
---