Supported platforms:

Windows Mobile 2003 SE, Windows Mobile 5, Windows Mobile 6, Windows Mobile 6.1, Windows Mobile 6.1

Requirements:

QVGA (240 x 320) or larger screen (auto scales up to WVGA (800 x 480) resolution)
Microsoft .NET CF 2.0

Supported languages:

English

Current version:

1.0

Release date:

6th June 2009

Licence:

Freeware

File size:

142KB

Install format:

CAB file

Tile Fall
Tile Fall is a fun, simple, and very addictive game, in which you attempt to remove a number of coloured tiles from a grid.
Tiles can be removed providing that are touching another tile the same colour on at least one edge. Removing small groups of tiles (2 or 3 together) provide very small scores, but by removing other tiles, it is possible to get very large groups of tiles of a single colour. Removing these large groups results in drastically higher scores.
As tiles are removed, the surrounding tiles fall down to fill the spaces left. The game continues until no groups of 2 or more tiles are available.
Tile Fall is of course very similar to a number of other games available for Windows Mobile, including Bubble Breaker, which is included as part of the operating system with later versions of Windows Mobile. I wrote it however for two reasons:

...to learn how to write games for the Windows Mobile platform.
...as personally I think it is a more attractive, structured and enjoyable game than Bubble Breaker.

Hopefully you will enjoy it too!
Windows Mobile Tile Fall is available to download now.
Screenshots (click to enlarge)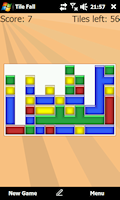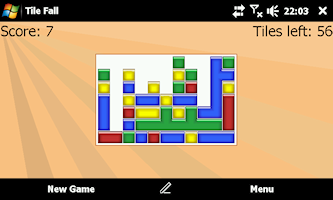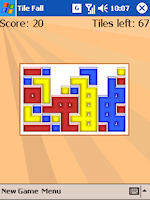 Features
Automatically scaled graphics to suit 240, 480 or 800 pixel wide screens
Auto adjust screen orientation on supported devices (e.g., HTC Touch Diamond/Pro, Samsung omnia) -- turn the device on its side and Tile Fall will rotate its display to match.
Highscore saving
Attractive graphics and animation
Configurable board sizes and difficulty levels
Three different animation speed settings (normal, fast and off)
The authentic Tile Fall sound effects
"Extended" tileset graphics, cause tiles to merge with their neighbours (see screenshots above)
Highscores saved in the same format as that used by the other versions of Tile Fall (so you can copy your existing highscore files)
Undo Last Move feature
Tile Fall is freeware -- you may download and play it for free.
Acknowledgements
Thanks to Koushik Dutta for the Sensors project which allows Tile Fall to automatically change its orientation when a supported device is rotated.
Version history
Version 1.0 (6th June, 2009)
---