Supported platforms:

Touchscreen or Smartphone device running Windows Mobile 2003 SE, Windows Mobile 5, Windows Mobile 6, Windows Mobile 6.1, Windows Mobile 6.5

Requirements:

QVGA (240 x 320) or larger screen (auto scales up to WVGA (800 x 480) resolution)
Microsoft .NET CF 2.0

Supported languages:

English

Current version:

1.2

Release date:

16th July 2009

Licence:

Freeware

File size:

187KB

Install format:

CAB file

PocketZax
PocketZax is an interpreter for a large number of Interactive Fiction ("adventure game") titles. It is able to play Z-Machine games, which include all of Infocom's classic games, and also an enormous number of games that have been created more recently using Graham Nelson's excellent Inform application.
PocketZax should provide you with hours of entertainment -- make sure you take a look at the Interactive Fiction Archive Games section or the Interactive Fiction Database for hundreds of games to play on PocketZax.
PocketZax should support all V1 to V5, V7 and V8 games, including the original Infocom titles and games packaged in blorb format.
The Z-Machine engine used by PocketZax (ZaxCS) is based entirely upon the "Zax" interpreter written by Matt Kimmel -- many thanks, Matt! ZaxCS is a port of Matt's original version into C#. I will release the sourcecode for this at some stage in the near future.
PocketZax is available to download now.
Screenshots (click to enlarge)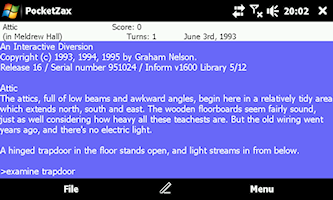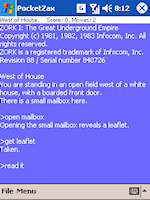 Features
Compatible with both touchscreen and Smartphone devices.
Plays V1-V5, V7 and V8 Z-Machine games (including the original Infocom titles) and games packaged in blorb format.
Screen configuration options allow a selection of font sizes, and to maximize the window (to take over the Windows Mobile status bar area) if desired.
Automatically scales to suit 240, 480 or 800 pixel wide screens (or any other, in theory)
Command history allows you to recall previous commands without having to re-type them.
'History' window allows you to re-read previously displayed text.
PocketZax is freeware -- you may download and play it for free.
Acknowledgements
Huge thanks to Matt Kimmel for his excellent Zax Java interpreter, on which the Z-Machine engine of PocketZax is based. Without all of Matt's hard work, PocketZax would not exist.
Version history
Version 1.2 (16th July, 2009)

Added support for "blorb" files. This opens up another selection of games that you can play!
Added a "recently played games" list. This will allow you to quickly locate games that you have played without having to find them on your device.

Version 1.1 (5th July, 2009)

Added compatibility for Smartphone devices (this is still a little preliminary but should be enough to get PocketZax up and running).
When large blocks of text are displayed, now pauses after each full screen of text so that you can read it. Pressing any key will move on to the next page.
Added a command history -- press the up and down keys to scroll through previously-entered commands.
Added a History window. Select this from the menu to re-display previously shown text.
Fixed a problem which occurred after the output text got excessively long.
Fixed a problem opening a new game when the current game had a multi-line status bar.

Version 1.0 (27th June, 2009)
---