Supported platforms:

Windows 98, Windows Me, Windows 2000, Windows XP, Windows Vista, Windows 7, Windows 8/8.1, Windows 10

Supported languages:

English

Current version:

1.2

Release date:

November 13th, 2015

Licence:

Freeware

File size:

3347KB

(You will be redirected to the Retrospec web site -- please start your download from there).
Highway Pursuit
Highway Pursuit is a modern game taking its inspiration from a number of classic arcade games.
It's an action-packed 3d blast along roads filled with enemy agents -- but also with innocent civilians that you should protect at all costs.
Featuring diverse landscapes and scenery, a variety of enemy vehicles, multiple weapons, weather effects, radio communications from your HQ, 3d sound effects, configurable support for keyboard, joysticks and steering wheels, Highway Pursuit is a road trip you shouldn't miss!
Highway Pursuit is produced in association with Retrospec.
Highway Pursuit is available to download now.
Screenshots (click to enlarge)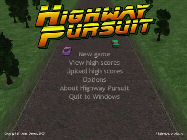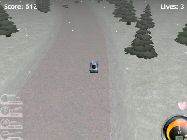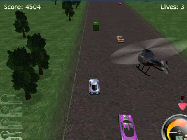 Features
Fast-paced action-packed arcade action
A variety of enemy vehicles with their own attack patterns
Multiple weapons: machine guns, oil slick, smoke screen, surface-to-air missiles
Radio communications from your HQ keep you informed of dangers ahead
Automatic highscore storage and internet upload feature
Can be controlled by keyboard, gamepad, joystick or steering wheel
Redefinable controls
Excellent music and 3d sound effects
A range of landscapes including forest, urban and desert
Highway Pursuit is freeware -- you may download and play it for free.
Version history
Version 1.2 (13th November, 2015)

It took ten years, but a new version of Highway Pursuit is available now!

Fixed an issue that was causing Highway Pursuit to crash at startup on some Windows 10 systems. Unfortunately I have had to remove the anti-aliasing feature for the time being, as this is what was causing the crash.
Added support for 1920x1080 screen resolution.
Improved support for playing in MAME cabinets by allowing the Shift, Control and Alt keys to be mapped as game controls.

Version 1.1 (6th Janury, 2005)

All controls can now be redefined when in Joystick mode, so the steering/acceleration/brake can be mapped to other axes or to controller buttons.
It is now possible to navigate the menus using the joystick -- see the Use Joystick For Menus option under the Controller settings. The entire game can then be driven without using the keyboard, except for typing in a name for the highscore table (though pressing Fire will save whatever name is already entered without needing to touch the keyboard).
The last entered highscore table name will be saved between sessions.
The Escape key will now return to the menu when in Pause mode.
Additional keys recognised for menu option selection (should fix problems with activating menus on some systems).
Slightly easier to get into the lorry -- it will steer towards the correct position in front of you.
Hopefully fixed a bug where the lorry fell into the water while carrying the player car.
Uninstall now properly cleans up the registry entries and HighwayPursuit directory.

Version 1.0 (12th November, 2003)
---
Online ratings
---
---