Supported platforms:

Windows Phone 7, Windows Phone 8 including low-memory devices
(Also available for Windows 8)

Supported languages:

English

Current version:

1.3

Release date:

24th September, 2014

Licence:

Price:

US$1.29, £0.99, €1.29
(Note: price includes both Windows Phone and Windows 8 versions of the game)

Download:
WordsUp for Windows Phone
WordsUp is a fun strategic word game for between 2 and 4 players. Each player takes it in turns to place letter tiles on to a game board to form words and score points. Unlike other word games, WordsUp allows you to stack letters on top of those already on the board, changing those words and forming new ones.
The more tiles there are in each word you form, the more points you score. As the stacks of tiles keep getting higher, so do the scores. Can you score the most points and become the WordsUp champion?
You can play local WordsUp against your friends (hot-seat or "pass and play") or against the computer, or can play network games against other players over the internet. The computer players have four difficulty levels, from "beginner" through to "expert" if you fancy a real challenge. You can set local games up with any combination of human or computer players.
All features of WordsUp are available in the trial, so that you can fully evaluate the game and all its features before buying. Please give it a try and see what you think.
I intend to continue developing and enhancing WordsUp, so if you have any comments, suggestions, complaints or bug reports, please contact me and let me know.


WordsUp is available now from the Windows Phone Store.
WordsUp is also available for Windows 8.
Screenshots (click to enlarge)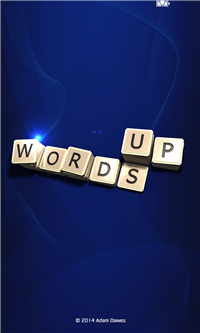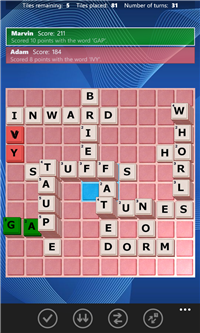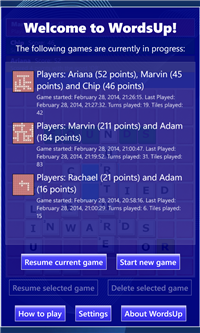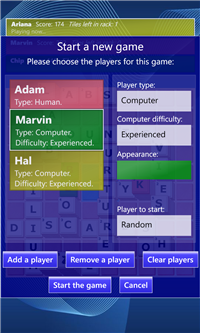 Features
Support for up to four players, including any mix of human and computer players in local games.
Play against other people anywhere in the world over the internet. Network games can be played across all WordsUp platforms (Windows Phone, Windows 8).
Four computer difficulty levels, from "beginner" through to "expert" for a real challenge.
Manage multiple games simultaneously -- put one game on hold and begin another whenever you like.
Informative game interface with easy to see information about what each player did on their turn.
Full support for "hot seat"/"pass and play" multi-player games -- each player's tiles will be hidden as the next player prepares to play.
Fully-featured trial mode allows all of the game's options and features to be explored before purchasing.
WordsUp's live tile keeps you updated whenever a network game is updated and can optionally display update notification messages too.
Available for Windows Phone 7 and Windows Phone 8, including support for low memory devices.
Version history
Version 1.3 (24th September, 2014)

Initial release for Windows Phone
---